Jack Playmobil Records will release his first trailers online from december on. Stonewood Filmhouse is working on it.
Jack Playmobil Records is releasing his first trailer. Release date is 7th of december 2019! After launching 3 vinyls , Jack Playmobil Records starts now with authentic promotion trailers. Technick used : Stop Motion. Material: retro Playmobil stuff and some extra stuff. All will be composed by Stonewood Filmhouse.
First trailer online for Jack Playmobil Records: watch it here watch it now!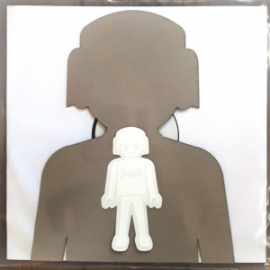 Musicians found on this label:
Hungry Soul
Hantrax
Sondervan
Redray
… and more to come!
Jack is wishing you a Happy 2020! Check out this New Years postcard from Jack:
Finally here! Shipped from Malta's secret Playmobil Sound and Vision Labs. 300 unique covers for Sondervan's new release: 4 track 'Homesync' E.P. on Jack Playmobil Records. The clip features the hypnotic poplocking bodyshocking freezing and bopping of the plottingmachine at Malta's secret Playpeople Plant. Witness how one of three hundred unique covers of Sondervans 12″ is created. A shortcut through 15 minutes of real robo-human state of the Art collaboration. You'll definitely find one that suits your interior … and your ears. 29/01/2020
Up at Wally's Groove World record sales : Dago Sondervan live coding for the release of his record on Jack Playmobil label. Go & get your personal "Homesync" record there!